Laura at Pink Flamingo Handcrafting started this feature a few weeks ago and I saw it and decided to jump on the bandwagon! I'm always finding fellow UK crafters on Etsy and Facebook (I haven't even started on the realm of Folksy and Twitter really yet!) that I love and getting annoyed that I currently have no money to support them while filling my house with original, beautiful items. Hopefully that will change a little in the coming months as I return to work part time and may have a teeny tiny bit of pocket money to spare on the odd occasion. I say this with baited breath and fingers crossed, but who knows, maybe my own crafting will even make me the occasional few pennies to spend on other crafters' goods?
Anyway, in the meantime I thought it would be great to help to promote their beautiful wares by sharing a bit more about them with you lovely lot. So here goes.
My first featured business is Mel Smith Designs. Mel's things first caught my eye on her Facebook page (I forget how I found it, but I suspect Etsy is probably the culprit), and her designs are beautiful; really colourful and cheerful and they're definitely on my wishlist! I've discovered in writing this post that another added bonus of doing the feature is getting to browse around blogs, websites, and various marketplaces reading about crafts and looking at beautiful things (some of which always end up on my favourites list for future reference!) all in the name of research! I found this about book blogging and am fast realising with craft blogging, but there is so much I love about it!!
Anyway, back to Mel! She is a designer whose work heavily emphasizes florals and bright colours, and as a result her brand is very distinctive.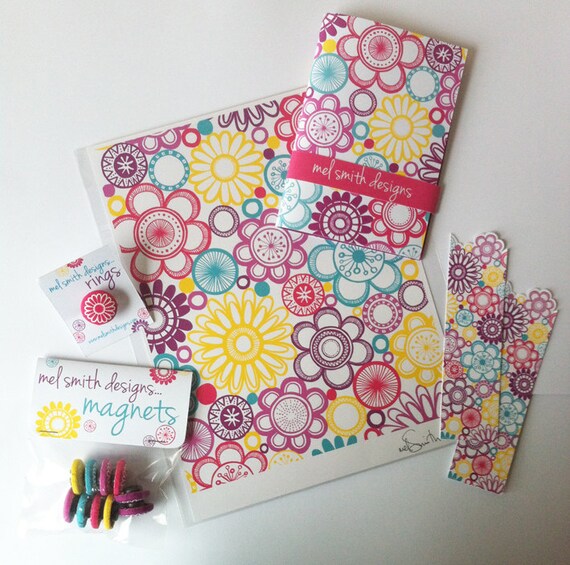 Picture Credit here - Set £20
After graduating with a degree in Design for Interior Textiles in 2006, Mel worked freelance and had a temporary contract in a small studio. After that contract ended, she decided to go separate ways from her agent and set up Mel Smith Designs and her Etsy shop, selling cards, magnets, buttons and paper goods, such as the bookmarks above!
Last year she completed the Art and Business of Surface Pattern Design e-course and has been working on larger scale products such as cushions, lampshades and kitchen products.
She has also just launched a Kickstarter project to get support for production of a collection of notebooks. For anybody who doesn't know, Kickstarter is a website through which people can find funding for projects (which can be varying) through asking friends, colleagues and associates (and friends, colleagues and associates of their friends, colleagues and associates!) to donate small or large amounts of money to their kickstarter. They aim to raise a certain amount by a certain date, failing which the Kickstarter will not go ahead, and it was this which made me want to feature Mel as my inaugral UK crafter! If you'd like to support her gorgeous work, the link to the project is here and you still have a few days to give any amount, big or small.
Picture Credit here -Cushion cover $20
Mel's inspiration comes primarily from nature, especially flowers, which you can tell just from looking at her designs! She is also inspired by architecture, particularly of the 1920s and 1950s, and on her facebook page you can see some recent sketches based on her holiday photos – another source of inspiration.
The thing that I liked most when I started looking at Mel's business to feature here is that she's done what I hope to do; she's turned her passion into a business, and she's expanding and learning new things and seems very motivated and driven. It's always inspiring to me to see people making the effort to make things happen for themselves, and I'm so happy to see things going so well for other crafters!
Since beginning her business, Mel has gone on to sell her products, including her beautiful Olympic designs on many websites including wallpaper.com and society6 as well as Etsy, Folksy and Facebook.
Image Credit here - Phone Case $35
You can find her online in various places, including her gorgeous website, www.melsmithdesigns.co.uk and her blog, www.melsmithdesigns.blogspot.com
, which gives a little more insight into the person behind the designer!
Facebook.com/MelSmithDesigns
Twitter.com/MelSmithDesigns
Etsy.com/uk/shop/MelSmithDesigns
And again, the kickstarter link if you want to support her: http://www.kickstarter.com/projects/655538485/mel-smith-designs-patterned-jotters-and-notebooks