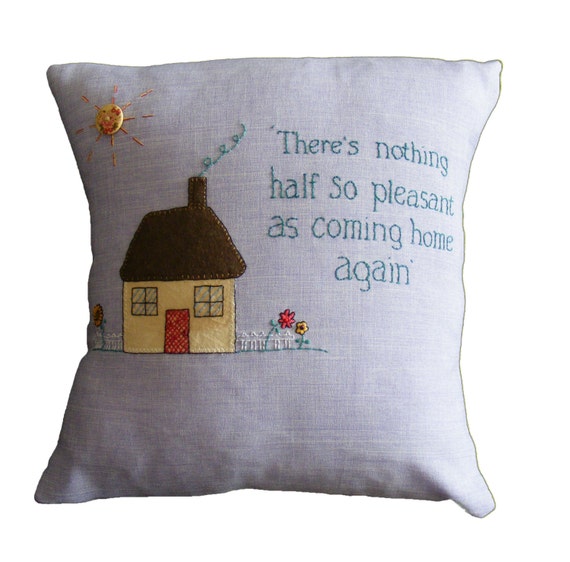 This week's UK Crafter of the week makes some of my most coveted things. Her cushions are just amazing and her hand embroidery leaves me speechless. This post will contain a fair amount of pictures, you have been warned.
The owner of JAMCrafts is named Jessica and the company is named after her initials. Like so many of us, she has been crafting since she was a child, and like many of the crafters I've been featuring so far, her items are amazingly unique. After studying Art and Design, she gained her BA(Hons) in Textile Design in 2003 and has been making beautiful things ever since.
Personally I sort of think that there are too many cushion covers around at the moment, but having said that I think that JAMCrafts makes some of the most beautiful cushion covers that I've ever seen, and if I had one in my house I would be incredibly happy. Jessica designs her cushions by drawing with thread on the material, and to this end she uses mostly hand embroidery, and an amazing attention to detail enhanced by techniques like applique and beading.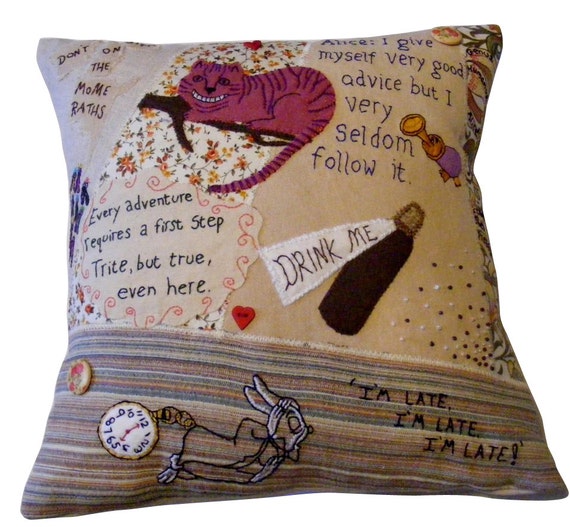 This cushion was the reason that I desperately wanted to do a feature on JAMCrafts, as Alice in Wonderland is one of my favourite books, and the Johnny Depp/Tim Burton movie is beautiful and amazing, as is this cushion. A lot of Jessica's commissions are from famous children's books, which she definitely puts her own unique spin on, and as a literature enthusiast I don't think I will ever stop telling people how beautiful her work is! She likes anything cute and cuddly, and the majority of her work has a face as she likes to give it character.
About her current work and inspiration, Jessica has this to say:
I'm currently working on something very different, a personal project, an embroidered jacket, I didn't make the jacket (not my forte) I plan to cover the surface fabric of the jacket with embroidery, found objects, vintage beads and buttons, messages and much more.


I was inspired after meeting the Artist Basia Zarzycka www.basiazarzycka.com/ she's a fantastic artist/designer who really works from the heart freely without worry, putting herself into every piece this is how I would like to be, perhaps a little less commercial although I still love interpreting funny characters like Alice in wonderland
And now I'm just going to put up a load of pictures of JAMCrafts products, because they speak more about inspiration and talent than I ever could!
All pictures property of JAMCrafts
You can find JAMCrafts online on:
Twitter:
twitter.com/#!/Jamcrafts
Facebook:
:
www.facebook.com/pages/Jamcrafts/157024777717794
As yet unfinished website:
:
www.jamcrafts.co.uk
Email:
jessgeen@outlook.com