There was going to be a post in between features this week. I even started writing it, but then got distracted by something else, you know how it goes! Anyway, here we are with another edition of UK Crafter of the Week, originated at Pink Flamingo Handcrafting (you can see her Crafter of the Week by clicking here).
This week is the turn of another Etsy find, Rosie Ann Shop, makers of gorgeous aprons of all sorts. Like so many of us, Rosie has been crafting since she was young, and (unlike me!) she is brilliant at sewing! Her Etsy and Folksy shops mostly feature gorgeous aprons in beautiful bright colours but she also enjoys making dresses, bags and brooches.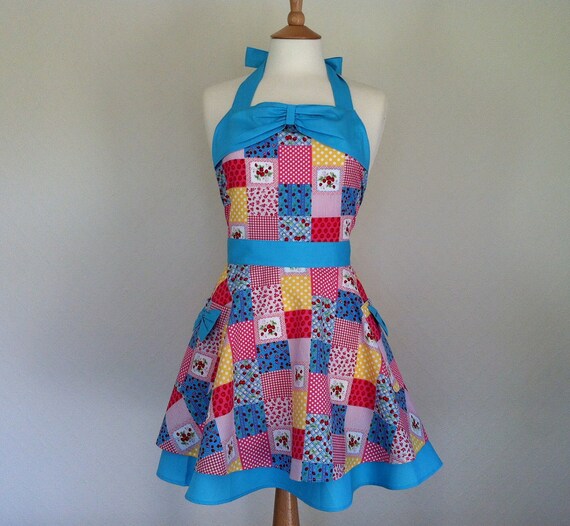 Here's what Rosie has to say about her business:
I am Rosie, the owner of a little apron shop called Rosie Ann Shop. I'm a Sheffield based mum with 2 children who keep me on my toes! My daughter is 4 and will start school this year and my youngest is a little boy who is 14 months old..
My passion and inspiration for colours, fabrics and vintage designs developed when I studied fashion in London, and worked in Covent Garden, Shoreditch and Camden. My interests in vintage fashion led me to work in Absolute Vintage, just off Brick Lane and later saw me running my own shop at Camden Stables Market. I loved being immersed in an environment of quirky fashion, especially at the beginning of the resurgence in vintage fashion. After leaving London, and with my mind full of inspiration from my time working in fashion in London, I started RosieAnnShop! My love for baking, and particular fancy for 1950s designs are major inspirations for my work.
I take a great pride in my designs and in the quality of my aprons, which I hope that you will see when you take a trip to RosieAnnShop online.
I've been wanting one of her aprons for a really long time, and I'm back at work next month so that may be the moment! Here are some of her lovely creations, and you can visit RosieAnnShop at Etsy or Folksy
Small Retro Dress, £24. Available from Etsy.
Children's apron, £12.50. Available in various colours from Etsy.
Half apron,
£14. Available in various colours from Folksy.